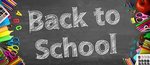 Back to School
It's that time of year again…SCHOOL IS ALMOST HERE! We've missed you!
Junior High, High School and New Student Enrollment will be held at the High School August 13, 2018 from 2-5:30 p.m. and from 10-1:30 p.m. on August 14th. Sixth graders will need to come on August 13th from 5:30-6:30 p.m. Parents or Guardians, we ask that you accompany your student so that you can sit down with Mrs. Taylor and enroll your student and get all necessary paperwork signed and turned in at this time. Are goal is 100% student with parent/guardian turn-out! See you soon!
¡Es ese tiempo del año otra vez…ESCUELA casi se aproxima! ¡Te hemos extrañado!
Inscripción de la Secundaria y Estudiantes Nuevos tomara acabo en la secundaria el 13 de Agosto del 2018 desde 2-5:30 p.m. y desde 10-1:30 p.m. el 14 de Agosto. Estudiantes del Grado Seis necesitan venir el 13 de Agosto desde 5:30-6:30 p.m. Padres o Tutores, les pedimos que acompañen su estudiante para que puedan platicar con Sra. Taylor y inscribir su estudiante y firmar y entregar todas las formas necesarias a la misma vez. ¡Nuestra meta es 100% asistencia de estudiante con padre/tutor! ¡Nos vemos pronto!